Being raised and nourished in the Orthodox Church, iconography and manuscript illuminations have influenced Tatiana's artistic path and provided her the spiritual strength to survive the challenges of life. She was born in Bulgaria, and her father, a self-taught artist and theatre director, inspired her love of the arts. She received her M.S. in Landscape Architecture in Bulgaria, where she designed parks and spaces for recreation and meditation. The collapse of the communist regime in 1990 enabled her to come to America, where she married and received Bachelor's and Master's degrees in Religious Studies and Library and Information Science.
The pinnacle of her academic career was the study and preservation of the South Slavic (Bulgarian) medieval manuscripts at the Historical and Archival Church Institute in Sofia, which led to her dissertation revealing "the secret history" of the Balkans during the Ottoman rule (1393-1878), as evidenced by manuscript marginal writings. Tatiana gratefully admits that the hand of God directed her in the unexpected turns of her life path.
Since 2008, she has dedicated her life to re-creating and re-interpreting Byzantine and South Slavic iconography and manuscript illuminations as a ministry and mission to Western audiences. Sacred Illuminations grew out of her fascination with Slavic manuscripts, unique in their eclectic decorations inspired by Byzantine arts, Persian carpets, Bulgarian folk arts, and even Celtic designs. The illuminations reflect the joy of spirituality and provide a glimpse of the Heavenly reality, of the radiance of the Holy Spirit within everything in God's Creation and the spiritual symbolism of Holy Scripture.
Trained in formal iconography, she applied gold and metallic pigments and Swarovski crystals to resemble in style the ancient Egyptian Christian arts. Iconography is an important spiritual discipline for her, especially during Lent and the fasting seasons, times of intensive prayer. Her icons became healing prayers during family hardship and challenges.
Her father's illness and passing in 2010 became a transformative event in her artistic style. She reversed from black on white to gold on black, a process resembling the "dark night of the soul," utilizing the power of the negative space. The new illuminations grew spontaneously from the center, as if from the heart, laying down layers of gold ink, metallic acrylic, and finally highlighted with crystals. Since then, she has evolved from gold on black to other metallic pigments including silver, blue, purple, and green, and recently pearly, iridescent, and interference acrylic paints to envision the deeply rich and enlivened colors in Heaven.
Tatiana has participated in 70 exhibits in the U.S. and abroad (Canada, Holland, and Bulgaria), including 33 solo exhibits. Publications such as Christian Century, L–Magazine, and Behold have published her work. The front covers of Beautiful Prayer and The Real Christ used her illustrations, as did the orchestra "Kamerkoor Kwintesens" from The Hague when they performed Arvo Pärt's Adam's Lament. Her catalog currently includes more than 500 titles.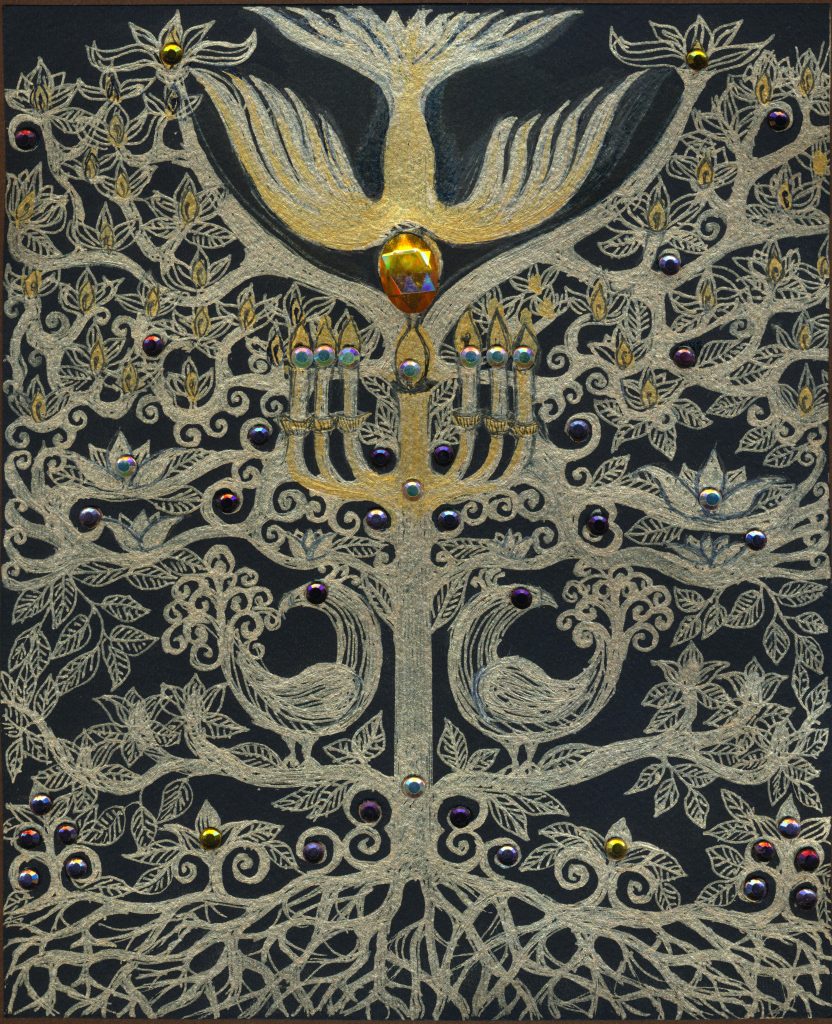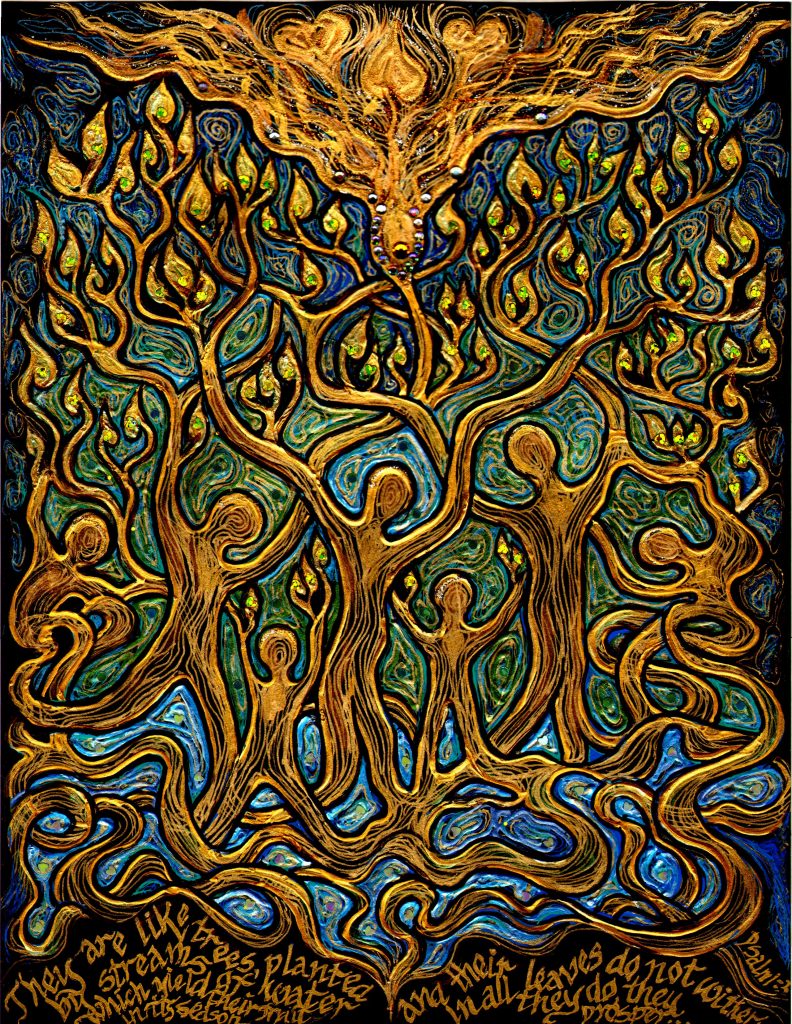 For more examples of her work visit her website, Sacred Illuminations.
Artist's Statement
A primary goal of Tatiana's work is to create beautiful calligraphy of Holy Scripture and prayers of the Church. Her art ministry attempts to spread the Word of God, and at this time she has inscribed about a hundred Scriptural texts and prayers. Sacred Illuminations continues the legacy of the ancient manuscript scribes, to create new vessels for the everlasting Word of God out of the depths of our rich spiritual heritage. Sacred Illuminations illuminates the mind and the heart and brings us into union with God and each other by spreading the message of peace, wisdom and love.

Sacred Illuminations is also a ministry of charity. A percentage of its modest earnings are donated to those in need, such as people suffering in the Middle East, orphanages in Kenya, and homeless people in the United States.
Header Image: "In the Image of the Tree of Life," Tatiana Nikolova-Houston (detail)
Please follow and like us: