by Abbey von Gohren
---
This article is reprinted with generous permission from Commonplace Living, a project that seeks to bring together and create a space where wonderers can grow, be refreshed, explore, brainstorm and think out loud together.
---
It was a series of three dark-grey, cold spring days; the kind that make you doubt Easter really has happened yet, though the celebrations have come and gone. A dull torpor with a slight whiff of sickness had settled over the family, the kind that makes you want to sleep long into the morning and indulge in a long nap later anyway. Despite this heaviness, there were things that needed to be done that week, and we did them – dishes, work shifts, making meals, bedtimes for our four-year-old son who was also clearly under the weather. On Sunday afternoon, we dragged ourselves into the car to go out to the Minnesota Landscape Arboretum. We had been planning to go for weeks, but for whatever reasons (our mood, the weather's mood), it seemed onerous.
Driving across the brightly-green grounds, our eyes began to be enlivened again to beauty. But after an hour or two of milling around and dodging wet and windy moments, it seemed like work and we were nearing the end of our visit. I had a speech prepared in my mind, something like well, I guess we did our duty. (How sad, in retrospect. Beauty is not an item checked off a to-do list; she will not stand for it!)
Instead of leaving straight away, however, we decided to do the Three-Mile Drive, a winding car path which displays many of the highlights of the place on the way out of the park. Through the raindrops on the windows, we glimpsed flowering crabapple orchards in a huge spectrum of pinks and purples, a mini mountain-ash forest florescent with buds, and a peaceful Chinese garden lying dormant in the spring rain. Finally, we came to the sculpture garden, which I hadn't seen in years and, in any case, didn't remember very well at all. My son couldn't see from his carseat, so we decided to brave the chilly outdoors for a few minutes so I could point out an articulable sculpture to him, which I knew he would love.
We whisked ourselves up through the wet carpet of grass and I showed the sculpture to him which I thought would intrigue him, but he kept saying, look Mama, look up there. And I looked, and I saw this up on the hill above us:
And he said to me, "Let's go up there, mama. It looks like a playground!" I waded through the switches of grass, trying to keep up with him and his enthusiasm, while trying to explain that we couldn't climb on these sculptures (as you can in the fantastical rural Minnesota sculpture park known as Franconia). We got to the place and stared at it. I looked down at the plaque, and it said: "Construction (Crucifixion)." Ah-ha. "Leo," I said, trying to sound natural and not too teacherly, "this is a picture of where Jesus died on the cross." He reached his arms up for me to hold him, wanting to be close to me, and also higher up to see. Once near, he pointed matter-of-factly at the circle and said, "Ok, mama. Then is that the stone that was rolled away?"
I stood there in the wind and rain, thunderstruck, awoken. That was the answer to the question I'd been inwardly turning over and over for days, vaguely conscious of my grief and confusion. Here was a cross, on a hill, on a gloomy grey day, one which hardly felt like we were on the winning side of Easter. And yet here was my small boy, instinctively and spiritedly reaching for the most obvious interpretation of the whole picture. The glorious sun-halo and the centerpiece of the cross must indeed be the resurrection. It dominates the whole thing. Suffering, gloom, difficulty, plain-old human weariness may feel like it's prevailing, but the little ones have been given the kingdom, and they can see the obvious, and they will tell us if we have ears to hear and eyes to see. I spun him around, and jumped up and down in the swishy water at our feet saying yes, you are right, you're absolutely right! as the imposing structure stretched above us held our only sunshine, the unshakeable hope that the stone's been rolled away.
Note: For those of you who looked at the picture above and thought – Mondrian! – good for you, too. My husband came climbing up after us a few minutes later and thought the same thing. Barbara Hepworth, the sculptor, was purposefully doing an homage to Piet Mondrian. Though you see it here in the photo with a luminous blue circle, the reflection of the lighting as we first approached it looked a dull yellow. So, was it a sun, a stone, or both? I also found out later that we were approaching it from the back, which accentuated the dominance of the circle. The front of the sculpture is crossed by the lines of the cross, which is also interesting, but I like to think that we came upon in the exact way that we needed to on that particular day, with the shining yellow sun unhindered on a literally very cloudy day.
---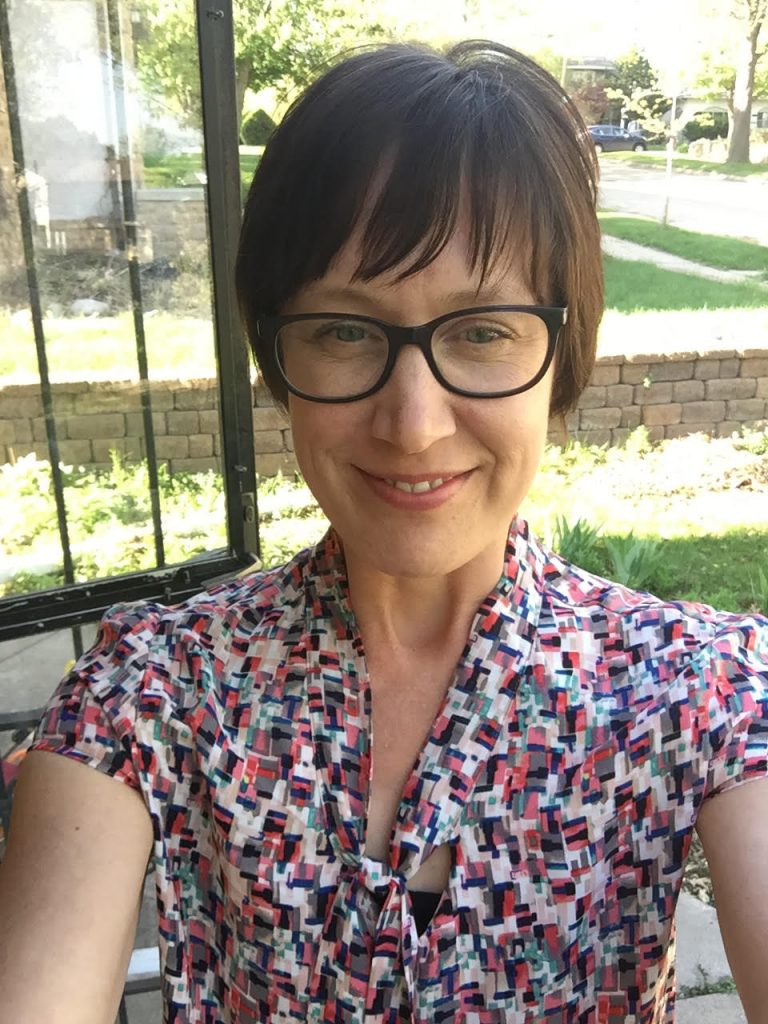 Abbey von Gohren is from Minneapolis, MN. She teaches French and leads high-school seminars on philosophy, history and literature. Otherwise, she spends her time playing with Legos, assembling words into poems, exploring the great wilds of Minnesota, and listening to music made by loved ones.
Header Image: "Tableau I," by Piet Mondrian, 1921 (detail), in the public domain
Please follow and like us: